A natural anti-inflammatory herb that doubles as a pain reliever has caught the imagination of those wanting a more natural and herbal-based solution to chronic health pain. Those seeking a respite not only from pain, but also dependence on prescription drugs are slowly turning to curamin for the answer to long term relief and freedom from drug dependence. The problem with conventional prescription medicine is certain liver and kidney damage. As an alternative cure, curamin delivers more than a holistic treatment, which does not interfere with the body's own pain management mechanism, thus making it the most suitable for long term treatment. Let's take a closer look at curamin's effects on pain and inflammation and judge its effectiveness fairly.
It requires low dosage, preferably not more than three times a day.
It blends into the body's own ability to fight pain.
It's a natural formula made up of curcumin, curcuminoids, Boswellia, Dl-Phenylalinine and nattokinase.
It reduces dependence on pain relievers that are known to induce not only coronary complications, but also increase chances of stroke. Long-term usage necessary in chronic cases have been linked to liver and kidney malfunction.
Boswellia works to curtail the action of the inflammation causing enzyme-lipoxygenase. DLPA or the Dl-phenylalanine is a mood enhancer that elevates pain by producing brain chemicals known to combat the aftermath of pain and essential for pain management.
Curcumin is the main active ingredient which apart from being a completely natural derivative from turmeric, a root of a plant known to have therapeutic effect. It has been in use for the last 2,500 years as part of human food as a spice and coloring and is immensely effective as an anti-oxidant and anti -depressant.
Nattokinase regulates the flow of blood thus endemically treating the root cause of inflammation while curcumin helps in regulating the work of neurotransmitters.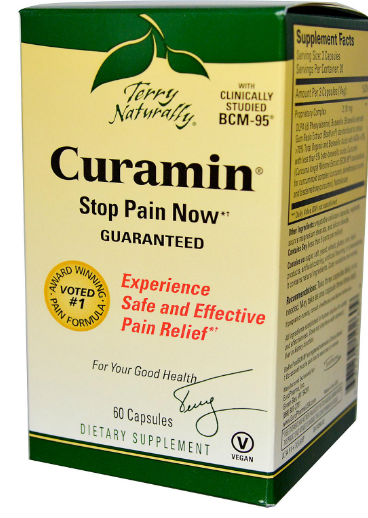 Such is the combination of nature and science in curamin that it works through natural pathways to the root and works its way to the nerve ends. Curamin is not known to have any side effects as it has been based on natural sources altogether. It has been put through clinical trials and testing that has made it safe and effective. From nattokinase that is derived from a friendly bacteria to curcumin – a product from turmeric known in Eastern societies for its tremendous healing potential.
By far, these properties make curamin the safest alternative compared to prescription drugs such as Ibuprofen or aspirin or other analgesics. A boon for those suffering from arthritis or surgery induced inflammation, curamin offers to sustain the body's own natural means to fight pain without making one drug dependent.
Rather than depend on pain numbing formulas, like codeine and Vicodin, with known side effects, curamin offers far more relief not only from the pain, but also from the fear of side effects.