What is anise
Anise is a plant that originally grew in the eastern Mediterranean part of the world and in Southwest Asia. The anise plant grows about every year and can grow up to three feet tall. It has shallow leaves and white flowers. The plant produces fruits that have seed pods in which the anise component used in medicinal supplement is extracted. The pods are processed to produce anise oil. Because of its many uses, anise has become a worldwide plant that can grow on any soil given that is lime and light.
Anise comes in different formats
From the usual seed format to pills and powders that can me mixed with other supplements, foods or drinks. Since this plant is natural, it is seen as a very healthy alternative to drugs.
Benefits of Anise Oil
Anise oil has been historically known to treat dry coughs, whooping coughs and bronchitis. These uses are still applicable even in today's world. In the recent times, it has been known to treat rheumatism and cancer.
The other uses of anise oil include blood oxygenation, digestion, constipation, hormonal imbalances, menopause, prostate cancer, flatulence, diverticulitis, colitis and irritable bowel syndrome.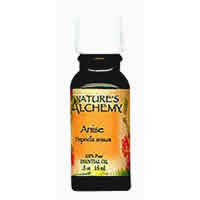 The oil is used in moisturisers, lotions and creams. Because it has some healing properties, it is a good solution to diseases like scabies, psoriasis and lice. These lotions work in conjunction with the skin's natural oils to kill any negative cells on the skin.
Anise oil is also useful in the treatment of pain. It is used in balms and salves to form powerful anti irritants and painkillers.
The seeds of this plant contain antispasmodic properties which make them helpful in the countering of menstrual pains. This expectorant action also justifies why they are used in many respiratory ailments.
This oil is powerful and yet inexpensive. It has been one of the amotherapy's kept secrets until people discovered it. The best anise oil comes from Egypt or Turkey. Always pay attention to the country of origin when buying. Insist on pure anise oil too.
Sources
http://ezinearticles.com/?Health-Benefits-of-Anise-Essential-Oil&id=5883398

http://en.wikipedia.org/wiki/Anise

http://www.webmd.com/vitamins-supplements/ingredientmono-582-anise.aspx?activeIngredientId=582&activeIngredientName=anise
Read More