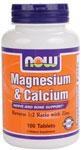 Kinds of Stress
Stress comes in many different forms. There are emotional stress, chemical stress and physical stress. Any impact from environment can also be seen as stress. There are also internal stresses. Stress not only affects the nerve cells but also affects other types of cells throughout the body.
How Magnesium and Calcium Helps
Magnesium actually gained its name as the nature anti stress mineral due to its help contribution in the restoration of inner balance and combating of internal stress. Several studies that have been conducted indicate that during the period of extreme stress magnesium is often used up by the body. Therefore, magnesium is an element that can help relieve stress in your body.
References:
1. www.calmclinic.com/anxiety/drugs/magnesium
2. www.healthy.net/Health/Essay/Magnesium_The_Stress_Reliever/74
Read More