Schisandra or Magnolia Vine is a traditional herbal medicine that is also spelled as schizandra. It is famous as wu-wei-zi and is a five-flavor berry used to make medicine because of its five tastes: sweet, salty, bitter, sour, and pungent.
Basically, schisandra is a tonic that helps promote your health and in the process, alleviates various health problems. However like any supplement, it is important that you consult your botanically-trained health care professional for the right dosage and safety considerations while taking schisandra.
Protects Your Liver from Damage
With regards to supporting liver function, schizandra does help as it is hepatoprotective in nature. This means it protects the liver from damage. As the liver is an important organ that filters toxins from the blood, helps with digestion and manufactures and stores nutrients, it is important that it is always functioning well.
The regular consumption of schisandra helps protect the liver from toxic damage, stimulates the regrowth of liver cells while improving liver function. The schisandra fruit contains schizandrol, lignans schizandrian, gamma-schizandrin and deoxyschizandrin which all trigger the liver to produce glutathione. Glutathione is an important antioxidant with an important part in the liver's detoxification process.
It is because of all this that schizandra helps alleviate various liver ailments like fatty liver, chronic hepatitis and other types of liver disease. In addition to this, as schisandra is used as an adaptogen it helps balance the body's organs and functions and in the process increases body resistance to stress.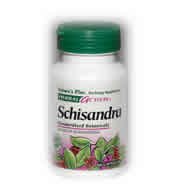 Helps Strengthen Body Organs
Schizandra also helps strengthen the kidneys and lungs to consequently help treat respiratory complaints. The lignans, vitamins A, C and E and volatile oils in schisandra gives it its anti-inflammatory, antioxidant and detoxification capabilities.
Schisandra gives strong effects on the body and may thus interact with your prescribed medications. However no matter if it is taken as an infusion, capsule or tincture, schizandra does support liver function, in addition to providing various other health benefits.