Omega-3 And Cardiovascular Health
Omega-3 fatty acids comprise many organic compounds naturally occurring in nature, and three of them are of nutritional significance, namely: (1) eicosapentaenoic acid, or EPA, (2) docosahexaenoic acid, or DHA, and (3) alpha-linolenic acid, or ALA. The first two have been cited to cut the risks of acqui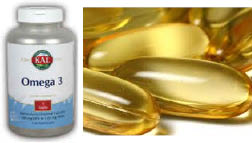 ring premature atherosclerosis, coronary heart diseases, and related cardiovascular disorders whereas ALA is an essential fatty acid that can be converted to both EPA and DHA. Over the past few decades, this has been supported by an abundance of studies and an ever-growing body of  literature. A number of randomized controlled clinical trials have surfaced in favor of its efficacy as a treatment for heart diseases in conjunction with lifestyle modifications.
Omega-3 And Triglycerides
Reduces Blood Triglycerides
It has long been postulated that omega-3 fatty acids influence the levels of triglycerides present in the blood, but only recently have clinical trials made conclusions. Free fatty acids in the bloodstream are made up of triglycerides, which are also a major constituent of lipoproteins that serve as transports for cholesterol in the water-based circulatory system. Lipoproteins have been dichotomized as either good or bad in recent years, with low-density lipoproteins, or LDL, being a good indicator of several cardiovascular diseases, especially atherosclerosis. Triglycerides are utilized by the liver in the manufacture of very-low-density lipoproteins, the precursor to LDL, or bad cholesterol. The availability of omega-3 fatty acids enables the liver to raise levels of high-density lipoproteins, or HDL, dubbed good cholesterol, which contain higher levels of proteins instead of triglycerides.
Protects Arterial Endothelium
Well-designed double-blind, placebo-controlled clinical studies point to effects of omega-3 fatty acids that appear to lower homocysteine in individuals at risk of certain cardiovascular diseases. The endothelium is the tissue exposed to the lumen of blood vessels and located above the smooth muscle cells. Homocysteine has been observed to significantly contribute to the formation of plaques within the arterial endothelium largely owing to the increasing levels of asymmetric dimethylarginine, or ADMA, within the blood vessel walls. High ADMA concentrations in the endothelium challenges the capacity of the arteries to function normally by compromising their ability to produce nitric oxide, thereby attracting free fatty acids and limiting blood supply to the heart. Supplementation of omega-3 fatty acids does not only normalizes homocysteine levels, but also lowers ADMA present in the endothelium.
Omega-3 and Eicosanoid Release
Affects Eicosanoid Releases
Omega-3 fatty acids have always been known as less inflammatory of all precursors of eicosanoids, the primary mediators of inflammation in the human body. It is widely accepted as a general rule that consumption ratios of omega-3 fatty acid to omega-6 fatty acids, or other groups of fatty acids, should be higher to maintain homeostasis of inflammatory compounds. Omega-3 fatty acids in particular have been noted for its potential to remove complications to preexisting cardiovascular diseases by reducing productions of eicosanoids responsible for aggregation of blood. In addition to lowering the risk of blood clotting associated with atherosclerosis, omega-3 fatty acids also rebalances the overall manufacture of intermediaries of inflammation.
It is important that you consume omega-3 daily to maintain good health.  Most omega-3 supplements supply 1000 milligrams per pill and recommend one per day.  I suggest 2000 to 4000 milligrams per day for better health.