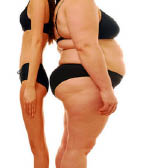 With the changing lifestyles and changes in diet, the number of people who are either overweight or obese has risen so fast over the past few years. In America alone, it has been reported that more than half of the population have a BMI (Body Mass Index) of more than 25kg/m2. This shows that a large proportion of the population is either overweight or obese. This trend is worrying considering all the negative impacts which results from being overweight or obese.
Overweight Is A Health Risk
Being overweight or obese exposes one to a number of risks such as cardiovascular diseases, diabetes, hypertension, diabetes and cancer. These are all serious conditions which could lead to death. People who have tried to lose excess weight will admit that losing weight is not as easy as it may seem. Although there are many weight loss products being advertized every day, the fact is that most of them don't work. For those who have experienced disappointments after using various weight loss methods that do not work, they will be happy to learn about exercise enhancers that makes the process of weight loss not only enjoyable but also easy. These enhancers are CLA and chromium. Let us look at how each of them plays a role in weight loss.
Conjugated Linoleic Acid (CLA)

It is important to note that the key to note that the key to healthy weight loss is to have a healthy lean muscle to fat ratio. Having more lean muscles than fat will make you slim. It is also worth noting that when you have lean muscles, you are able to effectively burn fat and therefore you will be able to maintain the lean shape. Conjugated Linoleic acid has been found to be very effective in improving the lean muscle fat ratio. Various studies have established that CLA is effective in reducing body mass and also boosting body's metabolism. The studies have also established that when you take CLA, you will experience a feeling of satiety and fullness and thus you will feel less hungry. Considering the fact that CLA helps to boost metabolism, it means that it will also help the body to be more energetic. If CLA is combined with other body exercises, you will be able to lose weight within a short period of time.
For you to have a healthy weight, you must have the right levels of blood sugars. Chromium has been found to promote normal levels of blood sugar and at the same time increasing insulin sensitivity. Chromium will increase insulin binding sites on the body thus making it easy for the blood to transport to body cells for energy. On a study, women who were dieting were subjected to 200mcg of chromium polynicotinate. The study established that these women experienced increased insulin sensitivity.
Losing weight could be a difficult task but if you use exercise enhancers, then the process can become easier. Although each of this enhancer is effective on its own, they can be combined for better results. It is important to note that these are natural products and they have no side effects on your body.
References
http://www.ncbi.nlm.nih.gov/pubmed/16933788
http://www.drdavidwilliams.com/lose-unwanted-pounds-conjugated-linoleic-acid#axzz2Yl1gsPn4

Read More