Belonging to the family of a tomato, Ashwagandha is a plump shrub with yellow flowers and oval leaves. It produces a red fruit, the size of a raisin. This herb is native in the dry regions on northern Africa, the Middle East and India. Today, it is also grown in more mild climates including US.
The name Ashwagandha means the sweat of a horse indicating that it gives one the strength and vigor of a stallion and it was prescribed traditionally to help people boost their immune system after an illness. This herb functions via constituents known as withanolides that have several positive effects including improved mental acuity and physical endurance. It also acts as an aphrodisiac and helps restore the functioning of the nerves.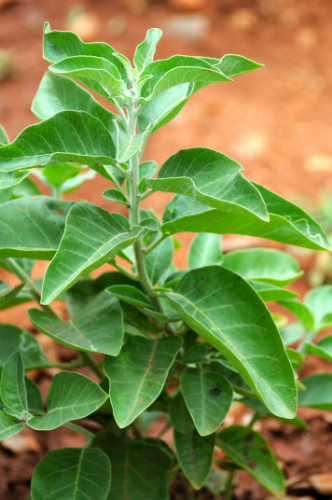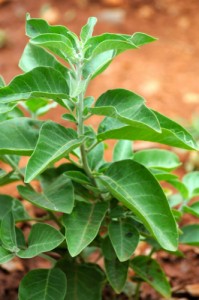 Ashwagandha is rich in antioxidants (glycowithanolides), iron, glucose, fatty acids, alkaloids, tannins, potassium nitrates and numerous other substances. It also contains steroidal alkaloids; somniferine, somnine, withanolides and anferine. These alkaloids play a major role in relieving stress and anxiety. The leaves of the plants contain highest amounts of the active ingredients and they are the ones often used but the roots of the plant also contain enough active ingredients.
How It Works
Ashwagandha also known as the winter cherry or Indian ginseng has extraordinary stress relieving properties and relaxing effects of the nervous system similar to those of the powerful drugs used to treat anxiety and depression. The compounds found in the leaves and roots of the plant act as a sedative and help reduce anxiety as well as promote relaxation. This plant is considered to be a healing plant or an adaptogen which equips the body to be able to handle stress better and enhance tranquility of the nervous system.
In addition to its protective properties of the nervous system, Ashwagandha is an effective alternative in treating a variety of degenerative diseases such as Parkinson's and Alzheimer's. Studies have shown that Ashwagandha is very effective in reducing stress levels and protecting the brain from neural tension reconstructing the nerve cell components. This plant is very helpful in relieving fatigue, anxiety, stress induced insomnia, cloudy thinking and nervous exhaustion. It also possess anticancer properties.
Ashwaganda Dosage and Best Usage
You are required to balance one month of treatment with a week of rest followed by another month of treatment. Ashwaganda is mostly sold in capsules, you should take 3 capsules daily of 350g at equal intervals preferably in the evening. In case of decoctions or infusions take 1-2g of dried root infusion.
To extract all the active ingredients, boil the leaves for about 10 minutes then leave it to infuse for about 15 minutes. You should not take more than 2 cups of decoction per day. Ashwaganda is also available in fluids or dyes extract but it reveals its greatest efficiency when in capsules form.
Side effects and precaution
Ashwaganda is a well tested plant and when taken in the right doses, it is safe with no known side effects. However, the following precaution should be taken:
Pregnant or breastfeeding women should avoid it.
It is also not recommended in case of hyperthyroidism.
When taking this plant for the first time, begin with small doses then increase gradually.
This plant can act as a sedative, therefore, it is best taken in the evening.