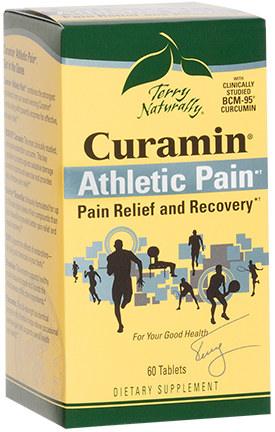 New product from Terry Naturals Europharma USA.
Curamin® Athletic Pain*† combines the strongest ingredients from our award-winning Curamin® formula with powerful enzymes for effective, safe pain relief.*†
Improve Athletic recovery and pain relief with this new curamin formula containing:
Proprietary Complex
1,100 mg
**
DLPA (DL-phenylalanine), Boswellia (Boswellia serrata) Gum Resin Extract (BosPure®) standardized to contain >70% Total Organic and Boswellic Acids with AKBA >10%, with less than 5% beta-boswellic acids, Bromelain, Curcumin (Curcuma longa) Rhizome Extract (BCM-95®) enhanced with turmeric essential oils and standardized for curcuminoid complex (curcumin, demethoxycurcumin and bisdemethoxycurcumin), Pancreatin (porcine source)
BCM-95® Curcumin: The most clinically studied, enhanced-absorption curcumin. It is a key ingredient for safe, effective pain relief.*†
BosPure® Boswellia: Uniquely formulated for up to 10 times higher
levels of key compounds than plain boswellia to provide better pain relief and
muscle recovery.*†
DLPA: DL-phenylalanine supports the "feel good" hormones in the brain for healthy relief and recovery.*
Bromelain: This enzyme supports muscle tissue structure and boosts the effectiveness of the other ingredients.*
Pancreatin: A favorite of athletes, this enzyme is well-known for its ability
to help relieve occasional exercise pain and support overall health
and vitality.*†
Get the edge you need to out perform others with Curamin Athletic pain relief and recovery formula.