What is a lobelia?
The Herb Lobelia also known as asthma weed or Indian tobacco has various uses for the body.
Health benefits of lobelia or asthma weed
It is known for being effective when it comes to reducing breathing problems during asthma attacks, it is also known for being effective in reducing the symptoms of bronchitis, whooping cough, shortness of breath or apnea especially in newborn infants.
There are some studies that show that it is also effective as a sedative, it can be used to help feel people relaxed, while other people can use it to increase sweating.
Lobelia is also used for cough syrup preparations, as well as counter irritant products.
The herb is also effective in reducing certain types of allergies that lead to persistent cough and colds.
It is also useful for reducing muscle pain, joint lumps including that of signs and symptoms that resemble that of arthritis. There are some countries that also use this herb in order to reduce bruises, sprains, and relive insect bites.
During the 19th century, American physicians also used lobelia to help induce vomiting; it is with the belief that in doing so they can remove the toxins from the body.
An active ingredient present in lobelia plan is similar to that of nicotine; lobeline was also once used as a substitute for smoking products until it was disapproved by the U.S food and drug administration in 1993.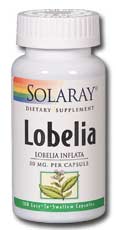 How lobelia is used?
Lobelia is considered as a toxic herb, and because of this, it must be taken in low dosages, after a certain period of time that is the only time the dosage would be increased.
It is important not to take more than 20mg per day. If you will consume a dosage that is higher than 500 mg, then this could become fatal.
It can be taken as a vinegar tincture, or just a regular tincture, it can also be taken as a fluidextract, or just as a dried herb or in a capsule form.
Why is it effective?
The herb lobelia contains a number of chemicals that contain substances that make it easier to cough up or expectorate; this can help a person breath better, especially if they are experiencing asthma.
What are the available forms?
Lobelia can be taken in various forms, it can come as a liquid extract, but it can also be taken as a tincture, some also use dried herbs in capsules and for teas.
Some use it as a form of ointment, or lotion in order to relieve muscle pain.
Is it safe to be used by children?
There are still no studies that will prove that it is safe to use for children, for this reason it is not advisable.
It should only be taken by adults but only in controlled dosage.
Precautions:
In order for use of the herbs to be safe, there is a need to take it in controlled dosage. It must not be mixed with other drugs without the permission of a physician.
What are the possible side effects of lobelia?
If overdose occurs, it can lead to rapid heartbeat, mental confusion, hypothermia, coma and even death. People who have kidney disease, liver disease, tobacco sensitivity and those who have seizure disorder must not take it. Pregnant and lactating women should also avoid it.
References
Auerbach, P. Auerbach:
Wilderness Medicine, 5th ed. Philadelphia, PA: Mosby Elsevier. 2007.
Bradley P, ed. British Herbal
Compendium. Vol. I. Dorset (Great Britain): British Herbal Medicine
Association; 1992: 149-150.
Lobelia | University of Maryland
Medical Center http://umm.edu/health/medical/altmed/herb/lobelia#ixzz3Qf3O8eMt
Read More