All about Devil's Claw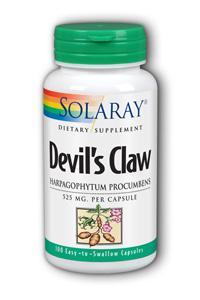 Devil's Claw is the most common name used for harpagophytum procumbens (scientific name) or grapple plant or wood spider. It belongs to the seasame family and is native of South Africa, particularly in Kalahari Desert, Namibia and Madagascar.
HISTORY
Devil's Claw was originally used by a German farmer called G.H. Menhert after he observed its usefulness in treating causalities of the Hottentot Rebellion of 1904. The soldiers, who had lost all hope to win, got cured by the medicine prepared by the local shaman. This is when Menhert discovered its usage and started distributing it. First discovered in eighteenth century, it is now quite common in Europe but in US is not so popular yet.
DESCRIPTION
Devil's Claw looks like a hooked fruit and so it got its name. The plant has large tuberous roots which has many medicinal values. It has white and hairy leaves, red to purple flowers with trumpet like shape and fruits which produce dark brown or black seeds.
USES
The part of the plant which is used for the medicinal purpose is its roots and tuber which are collected at the end of the rainy season. The root is chopped and dried in the sun for 3 days before using it. The main diseases that are cured by Devil's Claw are:
1. Fever and malaria
2. Menstrual cramps
3. Pains of child birth
4. TB and other such infectious diseases
5. Hypertension
6. Gout and liver disorder
7. Cholesterol level control
8. Blood purifier
MAIN BENEFITS
1. Osteoarthritis is mostly cured by the use of Devil's Claw. It is very effective because it is a conventional anti-inflammatory drug. In a clinical study, where 250 patients were observed having low back pain and osteoarthritis pain in knee or hip, were given an 8 week course of a medicine containing devil claw. The improvement was eye catching with, the old patience responding quicker than the younger ones. Thus the researchers concluded wood spider to be the best remedy for these pains in the year 2002.
2. Cardiovascular – A tasteless methanolic extract of the wood spider roots showed significant protection against hyperkinetic ventricular arrhythmias induced by reperfusion. It also reduced arterial blood pressure and decrease in heart rate in rats.
Devils claw has also showed a great remedial effect for joint and muscular pain which was mostly used by European settlers in Africa. It can also prove to be a great remedy for boils, sores and skin ulcers.
PRECAUTIONS:
Many studies and research have shown that this medicine has no side effect and that is why this medicine is approved as a non prescription drug. This medicine can have a side effect only when taken in very high dose. However it is the healthiest approach in treating joint pains. People affected by gastric or duodenal ulcers should also stay away from Devils Claw.
Mark Blumenthal, founder and executive director of the American Botanical Council, a nonprofit research and education organization, "At least two previous clinical trials on Devil's Claw have supported its use as an aid in treating lower back pain and rheumatic conditions. This study is significant in that it is the first to show the potential benefits of Devil's Claw for osteoarthritis.