What is Astaxanthin's Health Benefits?
Astaxanthins remain one of the natural carotenoids available from sea creatures and other organisms. Some examples of sources of this substance are:
• Microalgae.
• Fish such as trout and salmon.
• Shrimp, crayfish and other crustaceans.
• Resinous materials collected by bees.
• Taking a supplement containing the carotenoid.
Why Consume Carotenoids?
Carotenoids' antioxidant properties are well known as healing agents for diseases and in preventing the signs of aging. Recently, carotenoid studies possibly indicate several benefits that may be derived from consuming astaxanthin to increase one's carotenoid levels. The benefits of consuming carotenoids (https://www.healthline.com/health/health-claims-astaxanthin) include:
• Antioxidant action.
• Joint health.
• Heart and circulatory health.
• Improving the health of the skin.
• Reducing blood pressure.
• Lessening bad cholesterol levels in the blood.
Inflammation
This potent antioxidant has been shown to lessen swelling in those tested. Individuals with rheumatoid arthritis who used this substance discovered that they were better able to move and do daily activities. Plus, these patients found that their pain levels decreased with astaxanthin use. While early test results appear favorable, testing needs to continue with more extensive studies need to be done before a firmer conclusion is drawn.
The supplement, according to https://www.ncbi.nlm.nih.gov/pmc/articles/PMC4771988/), reduces COX2 enzymes in the body, reducing inflammation. Several types of prescriptions medications work. COX 2 enzymes enable pain relief from various forms of arthritis, dysmenorrhea and other types of severe pain.
Oxidative Stress Treatment
According to Dr. Ananya Mandal, MD at https://www.news-medical.net/health/What-is-Oxidative-Stress.aspx, oxidative stress occurs when the body contains an excessive amount of free radicals that can't be counteracted by the number of antioxidants contained in the body. While a certain amount of oxidation is to be expected in nature, excessive oxidation disrupts enough cells to cause a health disturbance.
Oxidants and antioxidants need to stay balanced to keep the body healthy. When the body has excess free radicals, oxidative stress occurs. When the body is in a state of this kind of stress, resulting damage may be:
• Unbalanced lipid levels.
• Parkinson's disease.
• Cancer.
• Chronic fatigue syndrome.
• Inflammation.
• Heart and blood problems.
• Alzheimer's disease.
• Genetic mutations.
• Atherosclerosis.
• Heart attack.
One of the ways this supplement provides many of these benefits is by reducing bad cholesterol, removing unneeded plaques from the bloodstream. Cleaner arteries also lead to improved circulation throughout the body, heart health, and circulation improvement as well as proper lipid levels.
Interest in learning more extensively about the health benefits of this nutrient continues. More information is needed to determine the extent of the benefits of taking this product.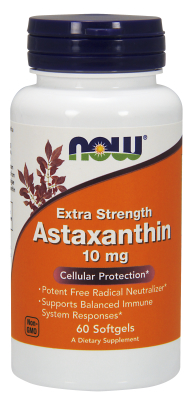 https://vitanetonline.com/searchs/Astaxanthin/Astaxanthin/