Potassium its many benefits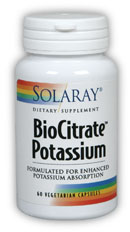 Potassium, the most essential health nutrient in human body titled as health Insurer. It has the benefits for maintaining a high level of well-being including a pleasant lifestyle. Besides serving as an electrolyte, it also facilitates proper functioning of some important organs and helps maintaining them in good condition. Potassium plays a critical role in our body which includes the following
Brain Functioning
Potassium has a huge role in the brain functioning in normal condition and thereby avoids the occurrence of stroke. Low potassium consumption may bring about a rise in strokes. Potassium channels maintain our brain's electrical conductivity and involved in greater brain functions like learning, memory. It assists to carry oxygen to brain and encourages delivering the neurotransmitters to send signals to the nerves.
Blood sugar levels
Decrease in potassium levels results in a fall in blood sugar thus contributes to various consequences. Intake of potassium offers instant relief from this problem.
Muscle Strengthening
Proper concentration of potassium allows for regular muscle contraction and relaxation. Probably the most remarkable benefits of potassium is it guarantees proper development of muscle tissues and appropriate energy utilization released during metabolism that adds to muscular strength.
Blood Pressure Regulation
Potassium acts as a vital component to maintain the normal blood pressure and further prevents the probabilities of heart diseases and hypertension and it is proven to be effective in lowering hypertension.
Mental health
Potassium is an excellent cure for people struggling with undesired mental states like stress and anxiety. It acts as an excellent stress reliever and assures effective mental functionality which is necessary for emotional well-being.
Heart Health
Potassium plays an irreplaceable part in making sure great health and functioning of heart .As the heart is a significant muscle which is constantly, rhythmically contracting, potassium is incredibly essential to proper heart functioning..
Kidney Functioning
Potassium assists kidneys to eliminate wastes and acts as an agent to prevent calcium from developing stones. Lesser the probability of kidney stones, higher the consumption of potassium-rich foods.
Fluid Balance
Potassium has substantial role in maintaining the desired water balance in body. It regulates body fluid levels and brings a homeostatic equilibrium and helps performing important body functions.
Nervous System
Potassium helps in enhancing the spirit of neural reflexes to transmit messages and keep sensory pathways and synapses healthy and distinct. Low level of potassium may cause hallucinations, confusion, and depression.
Bone Health
High potassium intake results in bone health by neutralizing chemicals in our body in order to preserve bone calcium thus increases bone mineral density. There is a positive connection between potassium and bone health especially in post-menopausal women, because it prevents osteoporosis
When there are low potassium levels, it brings about weakness, low energy levels, muscle cramps, irregular heartbeats, and stomach disturbances. This condition is called Hypokalemia which is often life threatening and really should regularly be treated by a doctor. Hence it is essential that our diet should be well balanced with this most critical mineral, potassium to lead a healthy life.