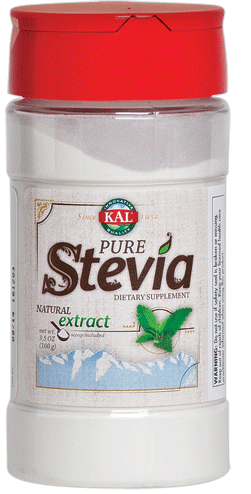 Many people were very upset about Kal pure stevia and its other ingredient listing Maltodextrin.  There has been a lot of controversy surrounding this ingredient maltodextrin, I am here to explain how maltodextrin got into the pure stevia in the first place.
When ever a manufacturing company produces a product, any vitamin product, the manufacture first purchases the raw materials.  For example, the stevia, comes in big 55 gallon drums,  which is tested for purity and authenticity.  Once the raw materials has been verified it is ready to go into production.  Kal has big machines that divvy out the exact amount needed per container.  Here is the problem, stevia can clump and does not always flow at the correct rate for each bottle being filled.  Now consistency is very important, you do not want one bottle to have 3.4oz and then the next to have 3.6oz  each stevia product needs to be exactly 3.5oz.  What can the manufacture do?  How do they fix the flow rate problem?  The simplest solution was to dust the shoot where the stevia flowed into the bottle with Maltodextrin.
A small dusting of the equipment where the stevia flowed through helps make the packaging of the stevia consistent and exact.
Maltodextrin has to be listed because it was part of the manufacturing process that the packaging machines need to package the product. The amount of Maltodextrin used is so insignificant that you can not even taste it in the product but is listed due to full disclosure laws in the U.S.A.
There you have it, the same quality pure stevia product that contains very little maltodextrin, which was part of the manufacture process.