Saffron is an expensive spice grown in Southwest Asia and easily identifiable by its bright yellow-orange color. It's often used as food coloring and flavoring as well as a non-toxic dye for dishes and textiles and an organic ink for paintings and skin art. It is also used in alternative medicine to treat a variety of medical conditions. Saffron is derived from the dried stigmas of flowers from the plant known as Saffron crocus or Crocus sativus.
The process of extracting the spice from the flower is highly labor intensive since it has to be done by hand. To produce just one pound of saffron spice, it takes as many as 75,000 blossoms that must be picked by hand. This is the reason why saffron is so expensive. The flip-side of this process is that this spice is highly potent, which means a little pinch will go a long way in adding flavor to your food or helping your body heal.
Where Does Saffron Come From?
Saffron has a rich history that dates back to two thousand years ago. Historians believe that Crocus sativus is native to the Eastern parts of the world and the current pattern of cultivation attests to this. Later, the agricultural practices of growing saffron and marketing it as spice and medicine were adopted in the Far East, and subsequently by farmers and merchants in the Western hemisphere. At present, much of the saffron trade comes through Iran and Kashmir as other countries produce very limited quantities owing to the cumbersome and expensive process of saffron cultivation.
In certain cultures, saffron is mainly used as food seasoning and as an ingredient in herbal treatments for a variety of ailments. Saffron is also believed to be a potent aphrodisiac. It's mixed with one's bath to make lovemaking more pleasurable for couples. Other uses of this vibrant spice include coloring dishes and antique furniture as well as dyeing sheets of woven fabric, which are made into dresses, pants, shirts, and shawls.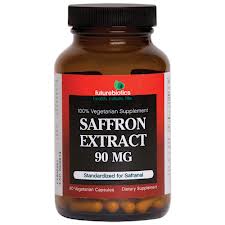 Health Benefits of Saffron
Extensive research has been carried out on saffron's medicinal properties. Available evidence suggests that saffron offer a variety of health benefits when consumed as spice or used as ingredient in alternative medicine.
1. Saffron is as effective as fluoxetine in the treatment of depressive disorders.
2. Saffron carries as much potassium as other chemicals or even more. This mineral has been linked to the proper functioning of the heart and in preventing heart diseases and hypertension.
3. Saffron prevents development of presbyopia, which is an age-related eyesight problem.
4. It has demonstrated significant action on cancerous cells, particularly in tumor suppression.
5. Saffron has crocetin and crocin, which are important chemical compounds that reduce the risks of dementia and brain degeneration caused by aging. This could be a big help in treating the symptoms of Alzheimer's and other degenerative disorders.
Resources
1. http://www.webmd.com/vitamins-supplements/ingredientmono-844-SAFFRON.aspx?activeIngredientId=844&activeIngredientName=SAFFRON
2. http://www.stylecraze.com/articles/amazing-benefits-of-saffron/
3. http://www.livestrong.com/article/338605-saffron-health-benefits/