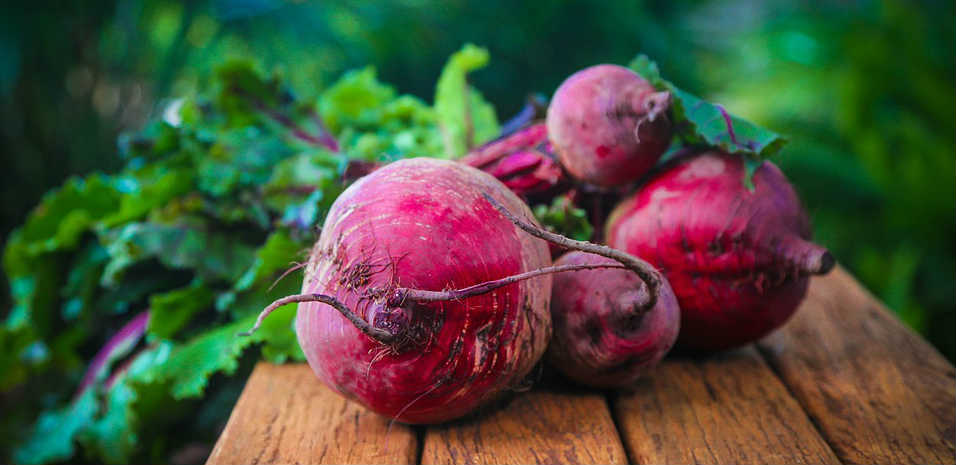 The word superfood often conjures up images of leafy greens and blended smoothies, or brightly colored berries and raw salads. Everyone seems to have a list of leaves and roots that they put into various different recipes in order to achieve the optimal bodily health. With an ever expanding laundry list of foods that we should be eating it can be hard to choose the right ones. For anyone looking to improve their overall health, beet root might be the next vegetable to add to your morning smoothie or lunch time salad.
BeetRoot
Beet roots, often shortened to beets, are high in potassium, fiber, folates, vitamin c, antioxidants, and nitrates. This mix of naturally accruing ingredients is what makes beets particularly beneficial for those looking to heighten their workout productivity, increase blood flow, and lower blood pressure.
Nitrates
Nitrates are a prime reason behind beets being one of the best superfoods for blood health. Once ingested, the body converts nitrates into Nitric Oxide, which causes vasodilation. Vasodilation is the relaxing of the smooth muscles surrounding the blood vessels, therefore increasing blood flow and lowering blood pressure. Vasodilation will assist in regulating blood pressure during a workout, increasing stamina and productivity, thus allowing your workouts to last longer and be more efficient.
Vitamin Content Benefits
Folates, which can be called folic acid in their synthetic form, also have advantages that are linked to the blood, including treating anemia and reducing the risk of brain and spinal defects in a fetus whilst in utero.
Potassium is a naturally occurring electrolyte present in beet root. Electrolytes help regulate muscle and neuron function, maintain hydration, balance blood acidity, and rebuild muscle tissue. Sweating can lead to a depletion of these regulating chemicals and need to be replaced during or after a workout.
Vitamin C has an extensive list of health benefits, but the two most acclaimed are healthy glowing skin and a fortified immune system. What is not so widely known is that Vitamin C is also linked to healthy blood pressure levels and a diminished risk of heart disease.
Both Vitamin C and Nitric Oxide have a short shelf life. As such, the best way to eat beets to get the most out of them is to either eat them raw or to drink beet root juice. If you choose to cook your beet roots, the potency of the nitrates will be diminished. Regardless, there are still plenty of bonuses to be gained by eating beets, no matter the manner in which they are prepared. Beet roots produce a highly pigmented red juice, which can lead to a pink or red tinge in certain bodily functions. This is completely natural, but does not occur in everyone.
Beet roots can be found in your local vitamin store and can be easily incorporated into your daily routine. This superfood is one of the best naturally occurring supplements for blood related health and is essential for any serious workout and for those that dont.