People who are so into fitness and health trends are currently going nuts over flaxseeds and chia seeds as food additives. Not only these tiny seeds add flavor and texture to a smoothie or meal, they're also proven to have high levels of protein, particularly amino acids, which are essential to the human body. These essential nutrients also include antioxidants like Omega-3 and Omega-6 fatty acids and alpha-Linolenic acid (ALA). In addition, the seeds fortify any beverage or meal with dietary fiber, vitamins, and minerals. Finally, people with medical conditions that require a controlled diet will love the fact that the seeds are gluten-free.
Flaxseeds, sometimes spelled as flax seeds, have been used as dietary supplements for hundreds of years. The Ancient Egyptians made linen from flax plant fibers, pounded the seeds into powder and used it as food, and produced flaxseed oil for cooking. Nutrition from flax seed is absorbed through three forms: milled or ground, liquid, and whole. Whole seeds are often raw and can be crushed into tinier coarse pieces for use as topping. Meanwhile, flaxseed that's sold as milled or ground powder is best used in baking or fortifying your favorite beverage.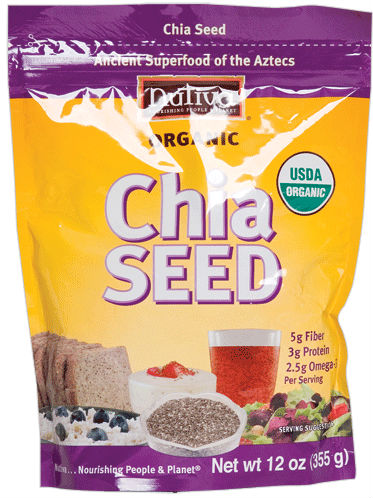 In comparison, chia seeds are harvested from the Salvia hispanica plant, which is member of the mint family and a native of Central America where the Ancient Aztecs made use of the herb's nutritional qualities extensively. Similar to flaxseed, chia seeds are also available as whole, ground, or oil capsules. Like its Egyptian counterpart, chia seeds also carry an inordinate amount of fatty acids that's three times the number needed to maintain a healthy heart. They also contain micronutrients, namely iron, calcium, magnesium, and zinc, as well as essential amino acids, like Alanine, Cystine, and Glutamic acid, Histidine, Isoleucine, Lysine, Phenylalanine, Proline, Threonine, Tyrosine, and Valine.
Flax seed is a great dietary source of vitamins, such as Thiamine, Niacin, Vitamin B-6, and Folate aside from the essential proteins and antioxidants. Yet, the most amazing thing about flaxseeds is the presence of a tough fiber called lignan. researchers have uncovered a glimmer of potential in lignans to cure specific cancers. Research studies have indicated that continued consumption of flaxseeds benefited men who are at risk for prostate cancer and women who'd been diagnosed with breast cancer or at a higher risk of developing tumor cells in the breast. Because of the estrogen-like effects and antioxidant properties of lignans, flax seeds also help menopausal women in reducing the discomfort of hot flashes.
On one hand, using chia seeds help lower cholesterol and blood sugar levels. Consequently, this leads to reduced health risks in people with cardiovascular problems and better management of a metabolic illness, like diabetes or high blood pressure. Combining chia and flax seeds in your food or drink can deliver double or even triple the amount of proteins, micronutrients, dietary fiber, and antioxidants to your system.
References
1. http://www.shape.com/healthy-eating/diet-tips/ask-diet-doctor-should-i-eat-flaxseeds-chia-seeds-and-hemp-seeds
2. http://www.lhwfoods.com/brands/about-flax-n-chia/
3. http://www.eatright.org/Public/content.aspx?id=6442472548
4. http://www.onegreenplanet.org/vegan-health/flaxseeds-health-benefits-tips-and-recipes/
5. http://umm.edu/health/medical/altmed/herb/flaxseed