Almonds And Your Health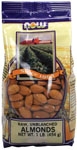 Organic almonds are one of the healthiest nuts. It is now becoming common knowledge that they are excellent sources of magnesium and antioxidants. Some people are probably deterred by the high calorie profile of nuts, but recent studies have suggested that almonds may even aid weight loss. In addition, they are rich in unsaturated fatty acids that keep the heart in prime condition.
Lowers Cholesterol
Almond nuts have long been known to be good for the cardiovascular system, but only recently have clinical trials supported this health claim. Regular consumptions of almonds appear to lower low-density lipoproteins, or bad cholesterol, in the blood even without changing other lifestyle factors. Organic almonds provide all the heart-friendly fats minus the toxic by-products of chemical treatments.
Promotes Glucose Uptake
There have been numerous citations on the effects of organic almonds on blood sugar. The compounds that occur naturally in almond nuts are capable of inducing an insulin spike. At the same time, they promote glucose uptake. Insulin is the hormone responsible for metabolism of carbohydrates by regulating blood sugar. Intake of organic almonds helps maintain insulin sensitivity.
Boost Energy with Almonds
Provides Energy
Almonds are all-natural energy-boosters. In addition to their role in glucose metabolism, organic almonds are packed with the right combination of minerals that speed up the production of cellular energy. Magnesium, manganese, and copper are dietary elements involved in different metabolic pathways that lead to the generation of adenosine triphosphate, which powers cellular activities.
Scavenges Free Radicals
Free radicals are almost always incriminated in the formation and progression of many known diseases, the reason why antioxidants have become a major component of nutrition today. Organic almonds contain up to 45 per cent of vitamin E. Furthermore, they are one of the best natural sources of selenium and manganese, two trace minerals that raises the antioxidant defense of the human body.
Facilitates Regularity
Nuts are generally considered high-fiber foods, and almonds are no exception. Fiber adds bulk to stool and attracts water in the colon to facilitate regular bowel movement. By so doing, it enables the smooth muscles along the gut to perform peristaltic movements, which are pivotal in the passage of waste materials. The fiber content of organic almonds makes them a viable treatment for constipation.
Improves Complexion
Throughout the centuries, almonds have been utilized as ingredients to skin care products. For example, the oil is extracted from the nuts and applied to the skin during massages. Modern science points to the unique nutrient profile of organic almonds that strengthens the capacity of the epidermis to ward off irritants and nourishes the lipids found in the skin.
Sharpens Memory
Organic almonds are among the oldest foods believed to have brain-boosting properties. For one, they are a rich source of fatty acids that are important to the synthesis of brain chemicals and activation of neuronal activities. More importantly, their nutritional value remains largely unrivaled by other natural sources touted to enhance mental clarity and improve cognitive function.
Buy Uncooked Unblanched Almonds
Grab some unblanched natural almonds and reap the health benefits from eating them daily!