Bromelain is found in every part of the pineapple fruit from its radiating leaves down to its juicy flesh. It is well-known for positive effect on digestive functions. More than that, it has other significant uses, particularly in relieving arthritic pain as well as in the management of allergies. The enzyme and other micronutrients can be extracted from the pineapple stem or bought as supplemental gel capsules.
What are the Health Benefits of Bromelain?
1. It has great anti-inflammatory properties. This explains why many body builders use it. It precludes the formation of kinins that are responsible for inflammation. It is essential for people who strain their muscles a lot.
2. It assists in the digestion of proteins. It aids in breaking down different types of proteins into amino acids. This makes them more available to the human body.
3. It can help relieve arthritis. Even though human studies have not proved this, there is some anecdotal evidence.
4. It can help in the management of sinusitis. It has been used to reduce nasal mucus and cough related to sinusitis.
5. It may be used to fight the effects of hay fever. A number of studies have shown that it can alleviate the swelling and inflammation engendered by hay fever.
6. It has antiviral and antibacterial properties. Thus, it can be used in the treatment of pneumonia, urinary tract
infections and bronchitis.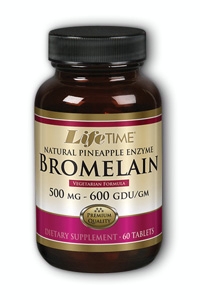 7. It can be used to reduce sinus and nasal swelling following trauma or surgery on the nose, throat or ears. It may reduce pain, recovery time and inflammation after surgery.
8. When applied topically, it relieves pain and reduces swelling after an insect bite.
9. It is a general immune system booster. It can help cut down bad cholesterol, treat warts and regulate hormones.
10. It helps in preventing blood clotting. It does this by breaking down fibrins that often cause blood clots.
11. It has gastrointestinal benefits. It helps in balancing the alkalinity of the small intestines and the acidity of the stomach. Additionally, it can help people suffering from an extreme bout of diarrhea and gastroenteritis caused by E. coli infection.
12. Bromelain can be used as medicine for hemorrhoids and varicose veins.
As we have already identified, Bromelain has numerous medicinal properties and health benefits. It's only natural that people would take advantage of these qualities and use it as a daily supplement or consume pineapples as food.
References
1. http://www.naturalnews.com/039123_bromelain_anti-inflammatory_enzyme.html
2. http://www.globalhealingcenter.com/natural-health/bromelain/
3. http://www.whatbenefit.com/what-are-the-health-benefits-of-bromelain/
4. http://www.gnet.org/bromelain-and-you/