Andrographis paniculata is an herb belonging to the family of Acanathaceae that has thrived mainly in Sri Lanka and India for many years and made itself useful to their people. The bitter-tasting roots and leaves of this plant are mostly used for the treatment of infections and other diseases before the discovery of
penicillin and the subsequent mass production of antibiotics. Extracts from this herb have a large number of phytochemicals, namely flavonoid glycosides, diterpenoids, and diterpene glycosides, which boost immunity and help repair damaged body cells.
Andrographis is commonly used to relieve the symptoms of the common cold, influenza, and respiratory tract infection. The plant has anti-thrombotic effects that are beneficial to people with cardiovascular diseases. In addition, it possesses anti-fungal, hypoglycemic, antibacterial, choleretic, and antiviral properties.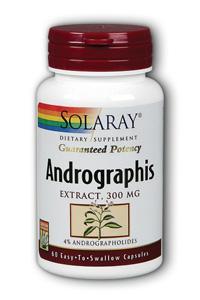 Take this orally as tea or in capsule form when there are signs of the common cold. You'll notice an improvement in your condition within 72 hours after administering this herbal treatment. It works so well that all symptoms are bound to disappear completely after 4 to 5 days. When treating common colds using Andrographis, combine the Andrographis extract, which contains Andrograholide, with Siberian ginseng, and take this three times a day.
This herb is safe for human use, but only when taken for a short period. Normally, adults take this for three months and children take it for one month until the cold and flu symptoms subside. The herb can cause some uncomfortable side effects, like diarrhea, runny nose, and vomiting. Other side effects include skin rashes, fatigue, headache, and loss of appetite.
High dosages of this herb can cause allergic reactions, such as swollen lymph glands and elevated levels of liver enzymes. There are some conditions under which this herb becomes very unsafe to patients. This herb is very unsafe during breastfeeding and pregnancy period as it may cause miscarriage.
References
1. http://www.webmd.com/vitamins-supplements/ingredientmono-973-ANDROGRAPHIS.aspx?activeIngredientId=973&activeIngredientName=ANDROGRAPHIS&source=0